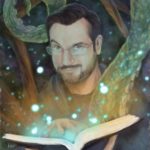 Let's tell YOUR story…
Sean Duregger is an award-winning audiobook narrator with a lifelong love for horror, science fiction, fantasy, and cinema trash. As a youth, Sean often sneaked into the Horror section of his local video store and allowed his imagination to take over as he prowled shelf after shelf of lurid VHS covers. Such films were not likely to get the family rental approval, so he could only stare at those jackets in wide-eyed wonderment about the terrifying and disgusting tales that lurked inside.
As an alternative to those visual feasts, he began devouring the works of Stephen King and other paperbacks of that ilk. Late at night, secure in a blanket fort and armed with a flashlight, Sean would fill his active mind with monsters, both human and not of this world. His love for reading and a penchant for creating voices to accompany the tales naturally led Sean to pursue audiobook narration. His enthusiastic embrace of genre fiction shines through in his work, enabling him to believably immerse listeners in tales from outlandish worlds.
An avid collector of paperback books from the 1980s and 1990s, Sean has become a sort of genre fiction archaeologist, unearthing tales from those decades and breathing new life into them in audiobook form. When he's not narrating, Sean actively pursues new projects straight from his bookshelf.
Sean lives in Southern California with his wife, three kids, and two dogs.
Are you an author, rights holder or publisher and in need of an audiobook? I'd love to help bring your book to life! Drop me a line!