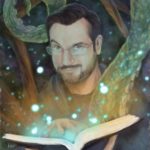 Let's tell YOUR story…
I love bringing characters to life. Whether it's a terrifying orc or a mysterious wizard or a fish-out-of-water teenager, I can help bring even more life to the world you've created. I'm a lover of Horror, Fantasy and Science Fiction as well as "on the fringe" non-fiction. I'd love to create something fun and memorable with your book!
Are you an author, rights holder or publisher and in need of an audiobook? I'd love to help bring your book to life! Drop me a line!