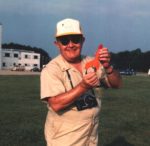 1988's WARBOTS is now out on audiobook and when I accepted the job, I had no idea who the author G. Harry Stine was. I was pleasantly surprised to find out that George Harry Stine basically wrote the book on model rocketry! Something I loved to do when I was a kid.
G. Harry Stine was born in 1928. He was employed by many aerospace companies and had a short lived job working on the Titan Project (a family of United States expendable rockets used between 1959 and 2005). He was fired because the Russians beat the United States to the space race with Sputnik.
In 1965 he wrote the first edition of Handbook For Model Rocketry, which I believe is up to 7 editions at this point. Recently updated by his son, Bill Stine. He returned to the aerospace industry and started writing under the pen name Lee Correy, one of these novels was a Star Trek novel called The Abode Of Life.
His writing career is pretty astounding with non-fiction titles like Handbook For Space Colonists and his fictional work with the Warbots series. I'm honored to be a small part of bringing G. Harry Stine's legacy back to the forefront with my narration of Warbots. There are 11 books left in the series, so I don't think I'll be hearing the last of G. Harry Stine!
Read more about G. Harry Stine here: https://en.wikipedia.org/wiki/G._Harry_Stine
The Warbots series is BACK IN PRINT! Learn more about Timothy Imholt's journey into bringing them back here
Grab your preferred copy of Warbots here: https://amzn.to/2lZnVEk