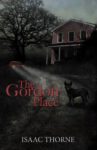 THE GORDON PLACE
Written By Isaac Thorne
Published by Lost Hollow Books: April 15, 2019
Audiobook Published: August 13, 2019
Lost Hollow constable Graham Gordon just walked into his abandoned childhood home for the first time in twenty years. Local teenagers have been spreading rumors about disembodied screams coming from inside. Now, thanks to a rickety set of cellar stairs and the hateful spirit of his dead father, he might never escape.
To me, Isaac Thorne's THE GORDON PLACE is a return to "classic" horror literature I remember reading late at night in my room as a kid. Character driven horror that while shocking at times, relied on our character's points of view to drive the story along. The blend of physical and psychological horror along with the colorful characters created by authors like Stephen King and his peers had an effect on the types of storytelling I seek out today.
What seems lost on some reviews I've read, is that some believe Mr. Thorne has an ax to grind against Conservative Small Town America. When, in fact, if you follow along with the perspective shifts in the story you'll find that not to be the case. Lost Hollow is a fictional town in Tennessee. A town plagued by centuries of dark forces and hate. Similar to a town like Castle Rock in Stephen King's mythology, there is much more under the surface of Thorne's Lost Hollow. In THE GORDON PLACE, the main antagonist is these dark forces manifesting themselves as deep seeded racism as well as the division of today's political landscape.
It's a delicate dance that I felt Isaac Thorne did very well. He doesn't spoon feed us these perspectives. And while certain characters are more passionate and vocal about their personal or political beliefs, Thorne steps back and lets these characters breathe for better or for worse. THE GORDON PLACE, while it has its heroes and villains, revels in the grey areas of life. And I love it for that.
I've narrated 11 books so far. And, while I don't like to play favorites, I believe THE GORDON PLACE will sit on my shelf of favorite projects for a long time. That doesn't mean I think I'm particularly amazing as the narrator. I'm confident about my performance, but I realize that every project I do comes with its own set of challenges and I feel like I met those challenges head on. As a story, THE GORDON PLACE sucked me in with its mystery, horror and memorable characters. I learned a handful of lessons that I will take with me into the next project, and look forward to visiting Lost Hollow once again.
Buy Kindle or Paperback Version
Buy Audiobook Version
Visit Lost Hollow Books at www.isaacthorne.com/lost-hollow-books