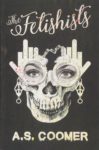 THE FETISHISTS
Written By: A. S. Coomer
Published by Grindhouse Press: February 19, 2017
Audiobook Published: April 24, 2019
Jefferson Wellman is a lawyer and has everything—money. He also has a particular taste when it comes to pleasure. And what Jefferson doesn't have he can purchase. His friend, Richard, visits him at his office one day with a contract and an invitation for a fetish auction by a new company. Bad Pain Entertainment guarantees to have what Jefferson is looking for . . . a 'ponygirl'. But when Jefferson shows up for the auction located in a remote wooded area, things don't go exactly as planned: Richard never arrives, Bad Pain's personnel are a little peculiar, Jefferson wakes up missing a few fingers, and the rest of the attendees are dead. Jefferson believes he has the knowledge to keep his reputation from being ruined. But what he doesn't know is he is now the focus of a new kind of fetish.
What happens when Eli Roth reads 50 SHADES OF GREY and visits the backwoods of Kentucky? Probably what author, singer, songwriter A. S. Coomer thought up with his short novel THE FETISHISTS. A nightmare put on paper through the eyes of Jefferson Wellman. A hot shot lawyer who has a deep dark side in exploring the seedy underworld of BDSM and fetish auctions. Unfortunately (for him anyway) things go off the rails from his planned evening of pleasure and pain with his "ponygirl." Jefferson wakes up missing fingers with everyone around him dead.
The rest of the story is a dive into madness of psychological terror and physical torture. We are subject to only what Jefferson sees, doesn't see, feels and hears. It's not comfortable and as an audience we are unsure if we're supposed to sympathize with the dirt-bag, Jefferson Wellman. And in the end, things aren't neatly tied up, either. And that's why I love this book!
A. S. Coomer's writing style here is different. Dangerous. A tad off the rails. THE FETISHISTS is one of the most unique books I've read in a long time, and I love it for that. I love that Jefferson is so unlikable. I love the mystery. I love the unresolved tension. If you like narratives that are unconventional and wild, then you'll love THE FETISHISTS.
It was an honor to narrate this for A. S. Coomer. It's available on Audible right now. I'll be narrating A. S. Coomer's book THE DEVIL'S GOSPEL later this year.
Buy Kindle or Paperback Version
Buy Audiobook Version
Visit Grindhouse Press at www.grindhousepress.com