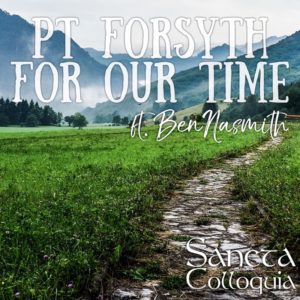 Podcast (sanctacolloquia): Play in new window | Download | Embed
Subscribe: Apple Podcasts | Android | Google Podcasts | RSS
In this episode of Sancta Colloquia, I finally get the chance to talk with someone I've wanted to talk with for a while: Ben Nasmith (@BNasmith).  Ben and I have connected over the work of PT Forsyth. I don't know a lot about Forsyth, but what I've read I always love. Specifically, what I love about PT Forsyth is that his work is the type of theology resonant with my own theological motto: if the gospel is true then it is true in the darkest of dark, the solitudes of solitudes, the weariness of weariness, and the despair of despair. In this episode, Ben puts flesh on the man and makes him real for me, and this makes Forsyth's theology even more powerful, in my opinion. After offering a good biographical sketch of Forsyth and the progress of his study and work, Ben offers insight into what make Forsyth tick: the severity of the Cross.
Taking the liberal theology he studied in the later part of the 19th century, Forsyth, according to Ben, makes it practical by rediscovering the gravity of the cross event in order to heighten the sweetness that is the proclamation of the gospel. Ben explains that the treasure of the Christian faith is the cross. When we forget this, we lose the very fabric that is the event of encounter with God in faith. "As we interpret the cross, the cross interprets us," says Ben. "We can't nail [the event of the Cross] down; it's a continual process." It's true; when we think we've figured it out, figured out the event of the cross, figured God out, that's when lose what it is we really truly need: a wholly other God who is always outside of our grasp but in whose fingers we are grasped. There's no way to look at the event of the cross and come into encounter with the active will of Jesus under this severe condition and not be changed. And repeatedly so. We never figure it out; we are always being encountered. Faith is new every morning, just like God's mercy is also new every morning. Ben drives home the reality that PT Forsyth is for us weary travelers on this journey of life…yesterday and today.
I'm grateful that Ben took time from his own work to come talk to me. I hope you enjoy this conversation as much as I did.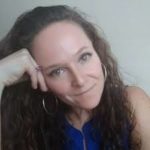 About The Host: Lauren R. E. Larkin is a priest in The Episcopal Church and teaches High School Religion/Theology. She is a mother of three and a wife of one. Follow her on Twitter @laurenrelarkin and read her musings over at laurenRElarkin.com.