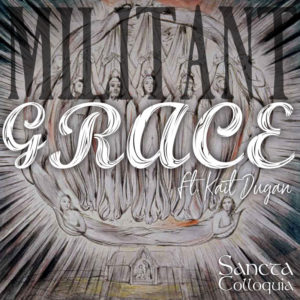 Podcast (sanctacolloquia): Play in new window | Download | Embed
Subscribe: Apple Podcasts | Android | Google Podcasts | RSS
In this episode of Sancta Colloquia, I had a chance to talk shop with my twitter friend and IRL friend: Kait Dugan (@kaitdugan).  Having finished Dr. Philip Ziegler's book, Militant Grace, I was eager to find someone to discuss the core concepts of the book: eschatological-apocalyptic theology. I needed more information, and the first person who came to mind was Kait. She knows her stuff, and I really enjoy talking with her—in person and online. I chose wisely. Kait provided me—and thus you—with an excellent discussion unearthing the core body of apocalyptic theology. Through her own personal journey in her faith, Kait highlighted both the fracturedness of the world under the oppression of the powers of sin and death, both of which are everywhere and seek to destroy and dehumanize. She explained the cosmic battle God wages against these powers through the advent of the crucified one, the Christ—a cosmic battle highlighting God's radical grace and action. Kait explains that in this divine cosmic battle, the focus is on reconciliation and not primarily on redemption. According to Kait, while forgiveness of sin is involved, God's cosmic dealing with the powers of sin and death are about liberation from the powers of sin and death. She articulated that things are far worse than we can see and imagine: we are in a struggle, and it's serious.
I believe we can be myopic about our own lives and about our "sins" that we miss, according to Kait, the emergency: "The world is on fire!" If this is true then spending time perfecting your own personal and moral virtue is silly unless the personal and moral virtue is defined in terms of giving a damn that your neighbor also suffers under these powers of sin and death. Fretting about quiet times and our religious piety misses the point entirely and just gives us a saccharine moment of feel-goodness. God's battle is for the liberation of the cosmos, and thus we are liberated in the event of encounter with God in faith to participate in that battle in the world IRL. We are liberated in our event-encounter unto joy, laughter, and living in resistance to the systemic and oppressive systems perpetuating injustice and captivity (the powers of sin and death) in our world.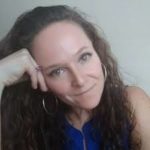 About The Host: Lauren R. E. Larkin is a priest in The Episcopal Church and teaches High School Religion/Theology. She is a mother of three and a wife of one. Follow her on Twitter @laurenrelarkin and read her musings over at laurenRElarkin.com.